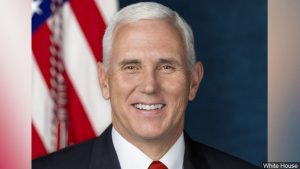 Vice President Mike Pence will visit central Kentucky in March.
America First Policies posted the announcement on social media.
The non-profit organization is hosting the event to promote the impact of the Republican tax overhaul. Pence is listed as the special guest.
Pence's visit is scheduled for 11:30 a.m. Wednesday, March 7 at More Than a Bakery in Versailles.
This will be Pence's second visit to Central Kentucky since becoming Vice President. In July 2017, Pence met with small business owners in Lexington.
Ahead of Pence's visit, the Kentucky Democratic Party released a statement.
"Just like everyone else working there, Pence is trying to get away from the White House while it implodes, " Kentucky Democratic Party Chair Ben Self said. "He came a long way to buy a cake for the dumpster fire. If the tax plan was actually helping people, they wouldn't have to spend so much money on selling it to the American people."
Source: http://www.wkyt.com/content/news/Vice-President-Mike-Pence-to-visit-Versailles-Wednesday-475526483.html