The Kentucky Federation of Republican Women

President's Page
January 7, 2022
Dear Members of the KFRW,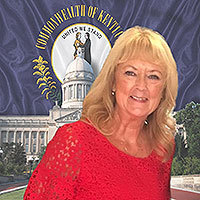 Happy New Year!  I cannot thank you enough for the opportunity to serve with you in this great organization.  The work that you do motivates me to be right beside each of you while we support the mission of the federation.  I am honored to call you my federation sisters!
Many things have happened in 2021.  We continued to watch and wait for some, kind of normal living before the onset of Covid 19.  We experienced loss of life within our inner circles but also a sense of distrust among each other.  We watched the evacuation of our troops from Afghanistan leaving many Americans behind to figure it out for themselves. And if that was not enough, as a human race, we became a society calling for uniformity instead of unifying as human beings collectively.
But you ladies kept working and believing in the process designed and established by our forefathers many years ago.  You listened, you debated, you worked, and your efforts have clearly led the way to success during 2021.
Two new clubs were chartered in 2021 with one ready to go to the National Federation of Republican Women for another new charter.   Several clubs have reinstated their membership in the federation and our membership has grown to over 900 members with a 115% of membership growth from the previous year.
Two of our Regional Directors began holding meetings with all Regional Directors to see how we could help them respond to each of the clubs in their regions.  We had our first ever and SUCCESSFUL "Virtual" legislative day while your KFRW Executive Committee held four meetings and your KFRW Board of Directors met twice as per our KFRW By-laws.
We have had clubs feed senior care centers, first responders, medical professionals and serve our veterans whether it was collecting socks or meeting at Veterans Connect.  If there was a need in our communities, you let them know the "Republican Women" cared.  You, my friends are an amazing example of what it means to serve others.
When the tornadoes destroyed parts of Western Kentucky in December, the KFRW quickly set out to see where we could assist.  By Saturday evening, the day after the storms ripped through many states, with the help of the NFRW, we had a commitment from Rotary International to get heated tents delivered for use as temporary housing wherever needed.  By Wednesday, through one of our members in WROCK, Kerrie Lester had secured a commitment from the Hewlett-Packard Company for $285,000 to purchase and set up computers along with any other equipment needed for emergency centers and schools.  By Friday morning with the help of Senator Rand Paul's office, four computers were up and running in four different emergency centers.
In addition to these efforts, many federation members called to ask, what can we do to help?  The first call I received just after 8 am on Saturday morning was from our Immediate Past President of the NFRW, Ann Schockett.  This call was followed by emails and phone calls from club presidents and federation presidents all over the United States.  With the help and excellent record keeping of our KFRW Treasurer, Carol Rogers, we came up with a plan to take donations through our website allowing donors to designate donations for Tornado Relief.  As soon as this plan was in motion, President Ann sent out a "National Call to Action" to all members in the national organization.  As of Wednesday, December 29th, the KFRW has received a total of $12,018.09 for tornado relief after processing fees were deducted by PayPal for their services.
Many lives were lost, businesses were destroyed, and homes were no longer habitable including those of three of our federation sisters.  Because of the generosity of Republican women all over the United States and Commonwealth, the KFRW hand delivered three checks in the amount of $1,000 each to our sisters in need just 6 days after the devastating storms.  After taking care of our members, the Executive Committee has decided to donate any other monies received to local charities who will use it in the impacted areas throughout western Kentucky.
This my friends, is how we Republican Women stand together as a sisterhood, stand true for what is right and unite for the cause.  "We are Women, We are Truth Seekers and We are Federation Sisters".
It has not been easy along the way.  We do not always agree.  We are multiple women with many opinions under one group.  Despite our differences, we have persevered and shared success as women.  As a federation, we have demonstrated that by our joining together, we are women in a league of our own.
It has been my pleasure to drive 10,163 miles throughout Kentucky during 2021 in order to represent and conduct the business of the Kentucky Federation of Republican Women.  I attended meetings in Washington, DC and the national convention in Orlando, Florida.  However, the best part of being your president, Sage and I have met many of you, in your communities while we shared our hopes, dreams and great fellowship.
As we begin 2022, we must stand united, we must stand for truth and never forget to have the back of our federation sisters.  We have a big election year this year, all votes are needed and if you believe as I do, we need to be at the forefront of the fight to ensure our democracy remains a system of government by the whole population.
Thank you to each who use their time, talents and energy for the mission of the Kentucky Federation of Republican Women and the National Federation of Republican Women.  Many plans are being made for another successful year.  Be sure to join us in Bowling Green for our KFRW State Convention from September 9th to September 11th.  More details to follow with a "you do not want to miss" special guest.
God Bless everyone!  Have a great year full of fun, excitement and more success.  Feel free to call if you need anything.  Either I, or Sage will be happy to talk to you.
For God and Country,
Pam
Pamela S. Roberts                                                                  Sage
President – KFRW 2021 & 2022                                           KFRW Mascot – 2021 & 2022